Widget: Calcolo del tempo di esposizione per oggetti in movimenti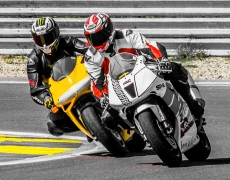 Un widget per il calcolo del tempo di esposizione per oggetti in movimento, con direzione trasversale, inclinata, verso la fotocamera o a scelta.
____________________
A Shutter speed calculator for mooving objects, with direction parallel to camera, 45 degree to camera, towards camera or custom.
.

____________________
Ricorda che è raro che l'oggetto sia perfettamente indirizzato verso la fotocamera. L'oggetto avrà sempre una direzione che differisce di almeno 10 gradi dall'ortogonale alla fotocamera quindi in questi casi è preferibile impostare l'opzione 'a scelta', altrimenti si ottengono tempi di esposizione sovrastimati, validi solo a livello teorico, che nella realtà non sono compatibili con gli oggetti in movimento.
Per approfondire la teoria vai a questo LINK.
Se hai osservazioni, domande o dubbi, non esitare ad inserire un commento!
  _____________________
It should be remembered that it is rare to have an object that is perfectly directed towards the camera. It will always have a non orthogonal direction, of about 10 degrees, so in these cases it is preferable to set the 'CUSTOM' option, otherwise you will get overestimated shutter speed, not always compatible with moving objects.
To deepen equations go to this LINK.
If you have any comments, questions or doubts, feel free to add a comment!