Widget: Calcolo della Distanza Iperfocale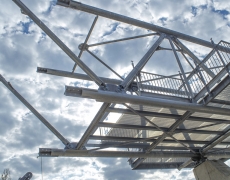 Un widget per il calcolo della distanza iperfocale in funzione del circolo di confusione e della lunghezza focale dell'obiettivo. La distanza iperfocale viene calcolata per F stop base o per aperture impostate dall'utente.
____________________
A Hyperfocal distance calculator that require to set circle of confusion and focal lenght. The widget calculates hyperfocal distance for full F stops and also allows to insert custom F values.
Non conosci il valore del circolo di confusione della tua fotocamera? Calcolalo QUI!
Se hai osservazioni, domande o dubbi, non esitare ad inserire un commento!
  _____________________
You don't know your circle of confusion value? Calculate it HERE.
If you have any comments, questions or doubts, feel free to add a comment!
My English is not the best, if you find errors, help me to improve!